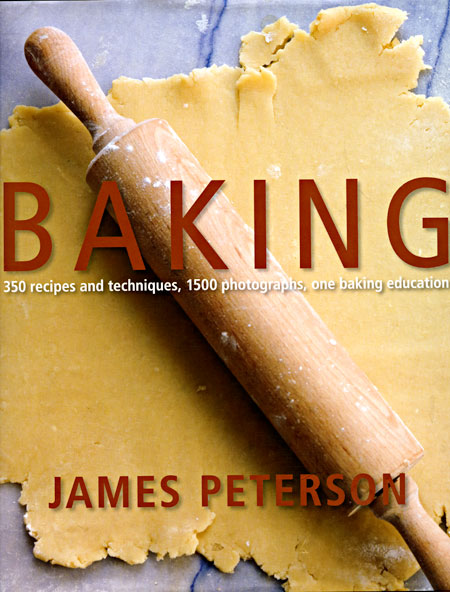 The premise of Baking is that the craft of baking is based on good technique. Learn the fundamentals well, and you can bake perfect cakes, cookies, tarts, breads, and pastries each and every time. Here, revered cooking teacher James Peterson gives us a master course in baking fundamentals. In more than 350 recipes and auxiliary techniques--most accompanied by illuminating step-by-step photographs--Peterson lays the foundation for lifelong baking success.
This book teaches you how to build finished baked goods from their essential components, providing both maximum guidance for less experienced bakers and great creative freedom for more confident bakers. The Cakes chapter, for example, presents basic cake recipes (Moist Sponge Cake, Devil's Food Cake) followed by frostings, fillings and glazes (Professional-Style Buttercream, White Chocolate Ganache), allowing you to mix and match endlessly. Or, if you're looking for knockout assembled cakes, go to the end of the chapter and discover complete illustrated instructions for, say, a decadent Chocolate Hazelnut Cake with Chocolate Filling and Hazelnut Buttercream, or an elegant Peach Creme Mousseline Cake.
Baking is packed with the basic, must-have recipes for every baker's repertoire (as well as more ambitious classics). Copious photographs inspire and help bakers visualize the crucial moments of hundreds of recipes and techniques.
Thorough, approachable, and authoritative, Baking shows why James Peterson is a trusted source for home cooks of every level. Work your way through this book, and you will gain the skills you'll need for impressive results every time.
To the right we show several steps used in making a tarte tatin. The secret to success is to cram as many apples into the pan at the beginning. First, butter and sugar are caramelized in the pan. Apple wedges are then added, end up, until the pan is full. The pan is placed over medium to high heat. As the apples shrink they leave room for more. More should be crammed in. At this point, liquid will come about halfway up the apples. Continue cooking over medium heat, repositioning the pan over the heat so each part cooks evenly, until the liquid cooks down and turns syrupy. Take out an apple wedge and look to see if the end is golden brown. If not, continue cooking. Put the wedge back. Let the tart cool and roll over a round of basic pastry dough. Tuck the dough in around the sides and bake the tart until the dough is brown and crispy. Cool the tart. Place it over high heat while rotating the dough and the apples with the flat of your hand to prevent them from sticking to the pan. When you've made one complete rotation, turn the tart out onto a plate. Serve in wedges.