jimcooks.com
James Peterson's Books, Blog, and Photography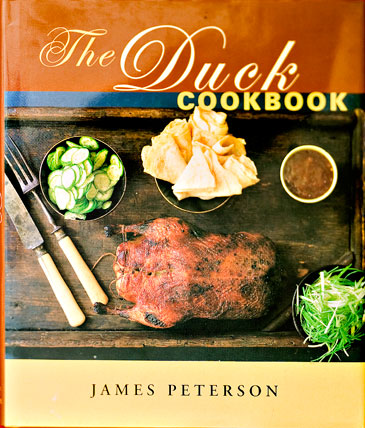 Few ingredients are as intimidating to the home cook as duck. But with the guidance of award-winning author James Peterson, any home chef can learn to prepare this incredibly versatile, flavorful bird.
The Duck Cookbook is the only complete guide to duck. With his signature style, Peterson explains the different varieties available and the best cooking methods for each part of the duck. Chapters begin with lessons on a single cooking technique--from sauteing to braising to smoking--then move on to specific dishes including soups, salads, and confit. Peterson's detailed instructions and abundant step-by-step photographs provide the reader with the proper skills to handle any kind of duck preparation, while sidebars tackle fundamentals such as cutting up a whole duck, making duck stocks, and more.
The book's 65 recipes range from straightforward, delicious whole roasted duck and sauteed duck breasts (with a variety of sauces) to sophisticated terrines and mousses. Recipes include Braised Duck Legs with Red Cabbage and Juniper Berries and Duck Confit Spring Rolls, Chinese Hot-and-Sour Soup with Duck, Duck Bouillabaisse, Wild Mushroom and Duck Confit Salad, and Pappardelle with Duck Sauce.
Chile Sauces for Sauteed Duck Breasts
You can get amazingly interesting and complex flavors out of chiles, especially dried ones. Make a simple sauce by soaking dried chiles in hot water--first cut them in half lengthwise and rinse out the seeds---and then pureeing the softened chiles in a blender with hot heavy cream and duck broth, or just the cream. I sometimes stir raisins into the sauce after pureeing for the welcome note of sweetness they provide, and I may also add slivered almonds for crunch. Chopped cilantro almost always works well with dried chiles. If you really want to get carried away, try making two or three dried chile sauces for subtle variations in flavor and color, then juxtapose them on the plate over or around the duck breast. Pomegranate seeds look great sprinkled over the sliced duck.