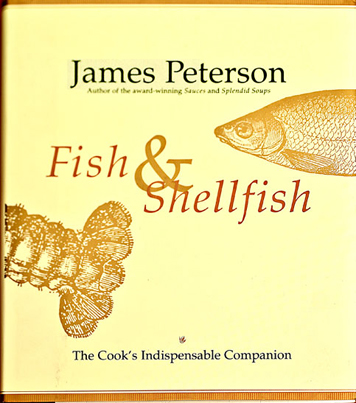 Every few decades a chef or teacher writes a cookbook that offers such depth of subject matter and cooking inspiration that it becomes a virtual bible for amateur and professional alike. Author James Peterson, who wrote Sauces, a James Beard Cookbook of the Year winner, and the incomparable Splendid Soups, once again demonstrates his savoir faire with Fish & Shellfish, a monumental cookbook that will take its rightful place as the first and last word on seafood preparation and cooking.
Fish & Shellfish demonstrates every conceivable method for preparing fish and shellfish, from braising, deep-frying, grilling and broiling to poaching, panfrying, marinating, curing and smoking, steaming and microwaving. In fact, Fish & Shellfish offers the equivalent of a complete cookbook on each technique. Within the chapters on finfish you'll learn how to prepare enticing recipes remarkable for their ease, their versatility, and their originality. Here Peterson offers dishes with such splendid flavors and textures as Stuffed Striped Bass with Spinach, Shrimp, and Mushrooms; crunchy Halibut Fillets with Curry, Herbs, and Almond Crust; delicate Salmon Fillets a la Nage with Julienned Vegetables; savory Braised Tuna with Vegetables; and fiery Thai-Style Swordfish Satay.
James Peterson's books have been hailed as the most companionable and dependable of cooking guides. Replete with tables, timing charts, advice about equipment, safety preparations, a glossary of foreign ingredients, and an exhaustive index, Fish & Shellfish will give you the power of flexibility and spontaneity as it transforms you into an accomplished seafood cook. Here is a fundamental cookbook that you will come to depend on every time you think seafood--and now you'll be thinking seafood all the time.