jimcooks.com
James Peterson's Books, Blog, and Photographs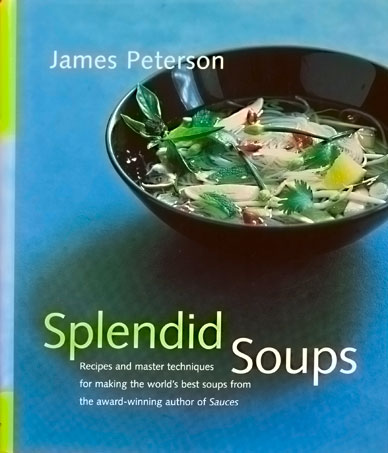 Filled with passion, warmth, and vitality, James Peterson's exquisitely researched books have earned him a reputation as one of the finest food writers of our time.
In Splendid Soups Peterson uses, step-by-step guidance to explain the essential techniques for making broths and consommes, and then moves on to soups based on vegetables, fish, meat, and other main ingredients. Capturing the heart and soul of the world's finest cuisines, 400 recipes offer an exciting and rich contemporary repertoire to explore, from the exotic Indian-Style Shrimp and Coconut Soup and the elegant Poached Duck Breast with Vegetables to the pungent Vietnamese Spicy Soup with Rice Noodles and the intriguing Chicken Tagine with Apricots, Raisins, and Almonds.
In addition to bringing together the best soup making techniques and recipes from around the world, Peterson shares the underlying soup-making guidelines that can be used to personalize recipes and create delicious signature dishes. Encouraging a deeper understanding of the ingredients and techniques of national and regional cuisines--including what foods work well together and when to add them to the cooking process--these guidelines liberate the cook from recipes and offer new ideas that will inspire a lifetime of culinary discovery.
Throughout the book, helpful text boxes share tips on everything from how to make a base for vegetable soups to how to fix a soup that isn't working out as planned. In addition, Peterson shares indispensable advice on choosing ingredients and selecting the proper pots and utensils, along with crucial thoughts on how to transform a soup from mediocre to magnificent, serving suggestions, and more--all delivered in his engaging and witty style. Whether it's a classic Gazpacho brimming with the fresh flavors of summer or a sinfully indulgent Foie Gras and Truffle Soup, he shows how to bring out the very best that soup has to offer.
Filled with exciting ideas and fresh flavor combinations, Splendid Soups is an enduring resource that belongs in every fine cook's library.
Crustacean Butter
Many sophisticated recipes for crustacean soups suggest swirling a tablespoon of crustacean butter per serving into the broth just before taking the soup to the table.
Crustacean butter is time-consuming to prepare and by no means essential, but it's well worth it if you want to give extra flavor and color to your soups. A little crustacean butter goes a long way and will keep for at least a month in the refrigerator and indefinitely in the freezer.
To prepare crustacean butter, you need a sturdy mixer with a paddle blade. Save the shells from about 5 lobsters or 7 pounds of crayfish or shrimp with the heads (you can freeze them and use them when you've accumulated enough). Combine them in the electric mixer bowl with a pound of cold butter cut into large chunks. Leave the mixer on slow speed for 20 minutes, until the shells break apart and the butter turns pink.
Transfer the shell/butter mixture to a 4-quart saucepan and put it on the stove over very low heat for about 45 minutes. Watch it carefully so the butter doesn't burn.
Run about 2 quarts of hot tap water into the pot. Let cool and refrigerate overnight.
The next morning the bright red butter will have floated to the top of the liquid and congealed. Lift it off very carefully with a spoon and put it into a small saucepan. Discard the liquid and shells.
Melt the crustacean butter and strain it through a fine-mesh strainer. Store in the refrigerator or freezer.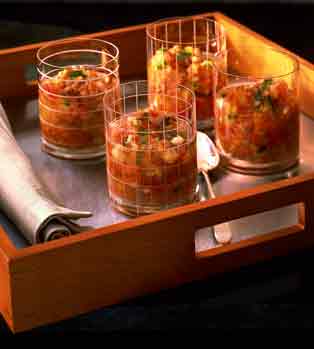 Gazpacho